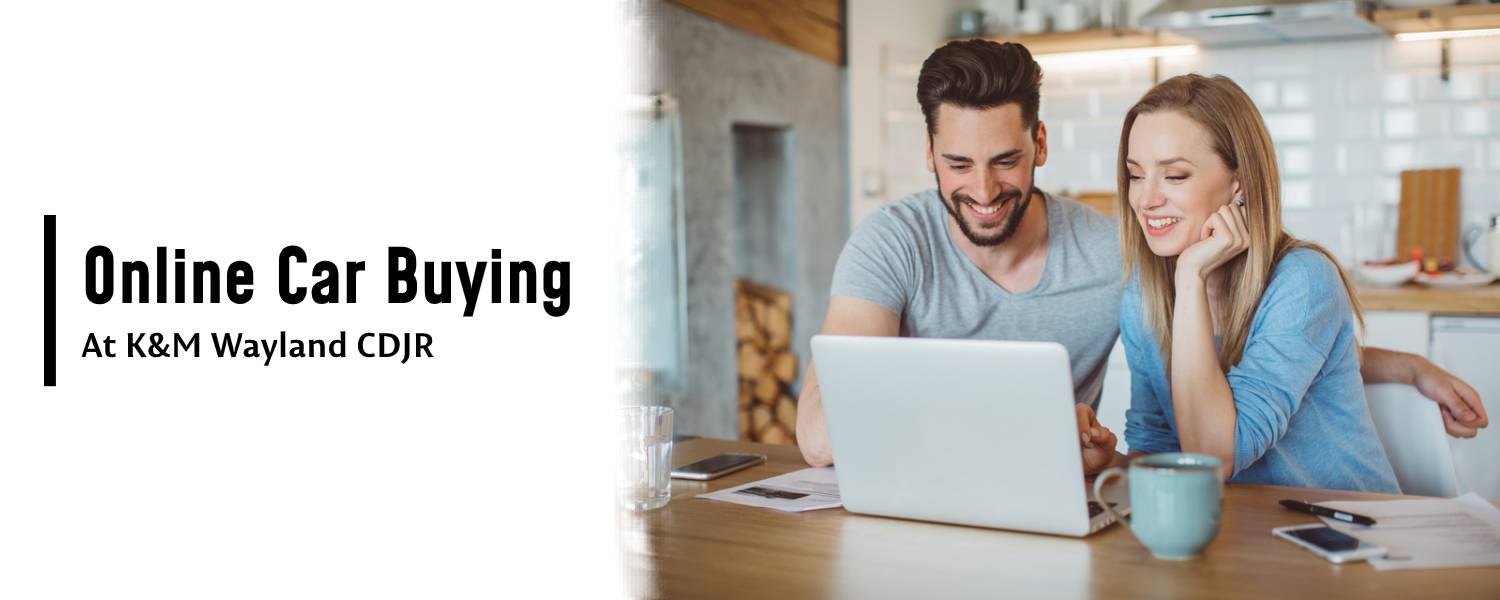 Experience the Ease and Simplicity of Online Car Shopping at K&M Chrysler Jeep Dodge RAM
Buying or Leasing Online is Easy with Our Team
The evolution of car buying is here.  With many people all over Grand Rapids, MI becoming more comfortable with doing their shopping and business online, it was only a matter of time before you could buy or lease your next car, truck, SUV, or minivan online.  With our intuitive and cutting-edge online shopping tools, we are making that experience a reality.  K&M Chrysler Jeep Dodge RAM, located at 3611 N Main Street in Wayland, MI, is here to provide you with the ease of being able to conduct your car shopping from the comfort of your couch.  As always, you can contact us if you have any questions along the way.  There are just a few basic steps to complete before you can get behind the wheel of your new car.
Step One: Picking Your Next Vehicle
With our online shopping tools, you can choose your next car, truck, SUV, or minivan from the comfort of your Kentwood, MI home.  There is a wealth of information about all the vehicles we have on our lot on our website.  This data will let you know everything you need to know to decide on which vehicle is right for you.  There are even window stickers you can view for cars from our new inventory.  Speaking of our new vehicles, drivers will be able to choose from all the top models in the Chrysler, Dodge, Jeep, and RAM lineups.  Some of the models you will find in our selection include the RAM 1500, Chrysler Pacifica, Jeep Gladiator, Jeep Compass, Jeep Wrangler, and Dodge Charger.
There are also many cars to choose from in our used inventory.  Are you looking to get a great combination of quality and value in your next used car, truck, SUV, or minivan?  You should check out our Certified Pre-Owned inventory.  We also have an abundance of vehicles from brands like Ford, Chevrolet, Honda, Nissan, Toyota, and Buick.  If you have any questions about the vehicles on our lot, our knowledgeable sales consultants are available by phone call, text, e-mail, or chat.
Step Two: Getting Your Trade Value
We know that there are some Wyoming, MI drivers who want to use their current car, truck, SUV, or minivan as equity toward the purchase or lease of another vehicle.  With the online shopping tools at our dealership, you can get the market value of your vehicle so you know how it will impact your deal.  With our trade-in tool, all you have to do is enter in some information about your car and you will be able to get its worth in a matter of moments.  You'll just need to supply the tool with the year, make, model, mileage, condition, and features of your vehicle. We want you to get the most for your trade, so make sure you are as thorough as possible.
Step Three: Personalizing a Monthly Payment That Works for You
Are you a customer who considers monthly payment to be the most important part of your car shopping experience?  You are not alone.  Our dealership understands that many of our customers are on a budget and need to know if the vehicle they are considering is going to fit into it.  The online shopping tools allow drivers to see their payment options and to adjust variables to see how it impacts the deal.  It doesn't matter whether you are planning to lease, buy, or finance your vehicle, you will be able to see those options and determine which one makes the most sense for you.  These options will also show you the applicable rebates and incentives that apply to the vehicle you are interested in.
Step Four: Securing Your Car Loan or Lease
The next part of the online shopping experience is obtaining the auto loan or lease that you need to pay for your car, truck, SUV, or minivan.  Our online shopping experience makes auto financing easy too.  The online credit application only takes a few moments to complete and it is sent, securely and encrypted, to our finance team.  They use the information provided to find the right in-house lending partner in our network to find you the affordable car financing you need.  It's easy and takes the stress and anxiety out of the auto financing process.
Take Advantage of Superb Convenience
When your deal is locked in, our staff will deliver your new vehicle to your home or business.  You will be able to test drive it and then you'll just need to sign the paperwork.  Shop online with K&M Wayland Chrysler Jeep Dodge RAM, in Wayland, MI, today to experience the most convenient way to buy or lease a new car.
How can we help?
* Indicates a required field