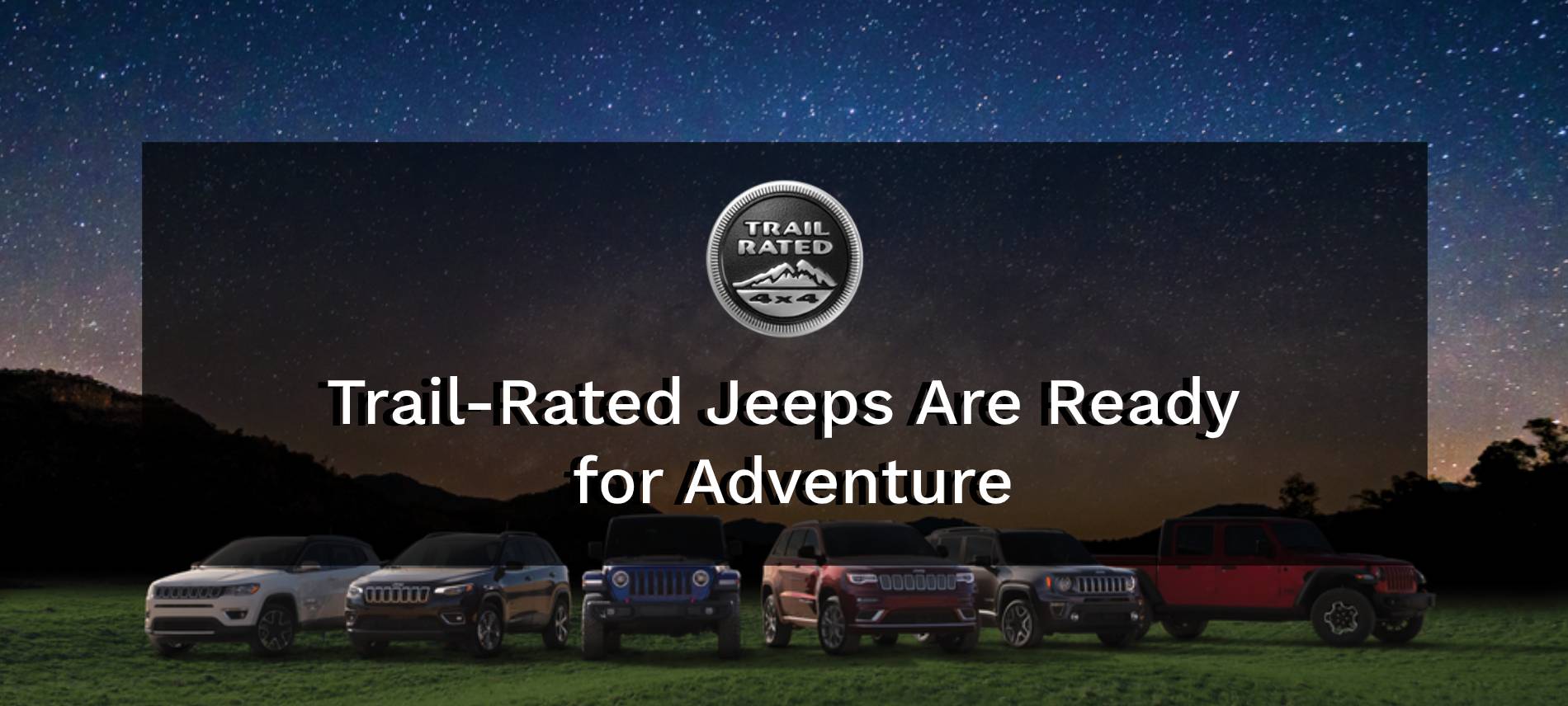 Wayland, MI drivers know that Jeep is known for its legendary off-road capabilities. Many Jeep vehicles are trail rated and capable of some impressive feats. Let's explore what Jeep means when they say their SUVs are trail rated for going where the road ends, and the fun begins.
Definition
To earn the trail-rated badge, the SUV must pass the off-road test at the Nevada Automotive Test Center (NATC). This test pushes them to their limits and represents some of the toughest terrains on the planet. They are tested on certain categories and must prove that they are ready for the obstacles that Kentwood, MI drivers might encounter during off-road adventures. Let's look at these categories and see how our favorite models perform.
Articulation
Articulation means that when one or more wheels are raised, such as when clearing rocks, the Jeep is flexible enough to help the others stay on the ground. This is achieved by maximizing the flexibility of the frame, axle articulation, and wheel travel path. They also added features to improve traction when the wheels lose contact with the ground.
If you want even more articulation, the Rubicon model has a button that allows you to disconnect your sway bar from the cabin. This allows the front wheels to drop and compress for better articulation on the toughest terrain. Wyoming, MI can lock the differential so that the power is evenly distributed in the rock-crawling mode, too.
Maneuverability
Maneuverability tests the ability of the vehicle to maneuver around the most challenging trails. This is the result of excellent visibility, precise steering, and larger wheelbase dimensions. The Rubicon is also equipped with a special low 84:1 gear ratio that will help it crawl over rocks and other obstacles. When the trail takes a turn, you can easily adjust and keep going. You do not have to be afraid to make your own way with a trail-rated Jeep.
Traction
Traction is tested by the hill-climbing ability of the vehicle. The Jeep must climb hills that most people would only attempt with a rope and a safety spotter. The Wrangler and Rubicon have such good traction that they are equipped with tow hooks that can be used to help drivers with less capable vehicles.
Ground Clearance
Jeeps must have the ground clearance to make it over large obstacles, such as logs. On the Rubicon, this ground clearance is enhanced with 33-inch all-terrain tires that have a large surface area for improved traction when clearing objects. Jeep also added rock rails and steel skid plates underneath the vehicle to protect the vital organs from damage. Some models are equipped with winch-capable steel bumpers with removable end caps. This allows you to aspire to more challenging terrain and adventures with confidence.
Water Fording
Water fording ability is something that few vehicles can claim. Jeeps with this capability have a sealed central venting system, high intake, and sealed electrical connections. This certification allows them to ford water up to 30-inches deep. However, it is still recommended that you use caution when crossing moving water, but the Jeep is not afraid of a few puddles.
Trail Rated Jeeps
Jeep classifies a range of their favorite models as trail rated. Here is a list of the 2020 trail-rated jeep lineup.
Wrangler
Rubicon
Cherokee
Grand Cherokee
Gladiator
Now, you can see why trail-rated Jeeps the perfect traveling companion for the more adventurous types are. They have capabilities that few can boast due to superior engineering and a long-standing reputation for building some of the toughest vehicles around. If you are ready for an SUV that can take you on the road less traveled, it is time to stop by K&M Wayland Chrysler Jeep Dodge Ram near Grand Rapids and test drive a new trail-rated Jeep today.
Get in Touch
Contact Our Sales Department

:

(269) 792-2268
Monday

09:00AM - 06:00PM

Tuesday

09:00AM - 06:00PM

Wednesday

09:00AM - 07:00PM

Thursday

09:00AM - 06:00PM

Friday

09:00AM - 06:00PM

Saturday

09:00AM - 01:00PM

Sunday

Closed