New Jeep Cherokee
Frequently Asked Questions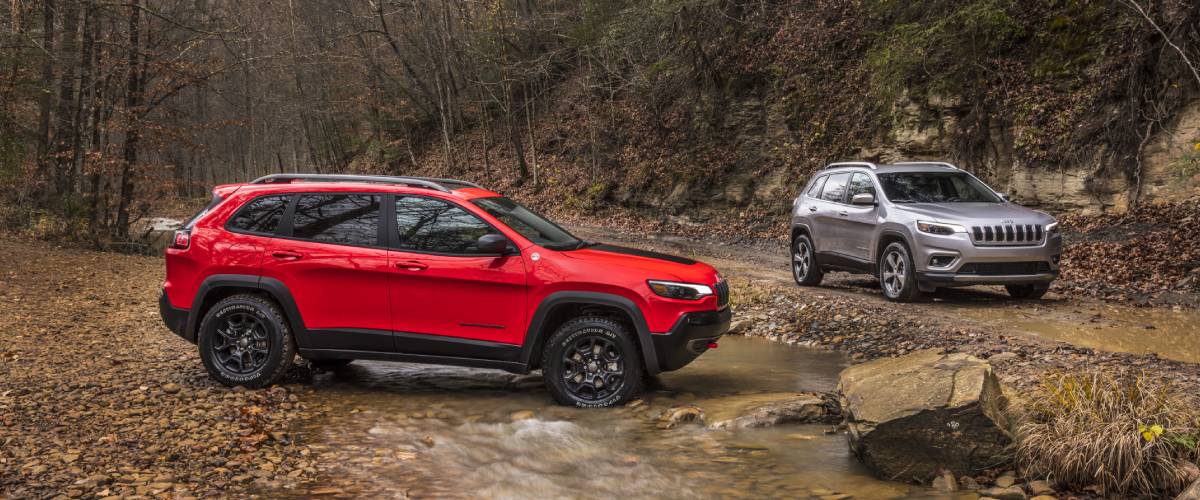 Get to Know the New Jeep Cherokee
The new Jeep Cherokee is a popular SUV amongst our Wayland, MI drivers. The new Cherokee offers drivers and occupants access to a wide variety of connectivity, safety, and performance features. Whether passengers are on long trips or short trips around Grand Rapids, they can count on the Jeep Cherokee to get things done.
Frequently Asked Questions About the Jeep Cherokee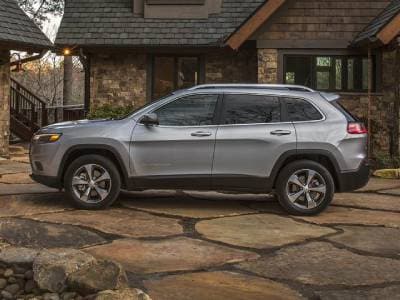 Is the Jeep Cherokee good for off-roading?
The new Jeep Cherokee has many features in its design that allow it to operate on paved and unpaved roads. This includes the Quadra-Drive Active 4x4 system. Quadra-Drive easily handles the powerful forces generated by the Jeep Cherokee motors. The 4x4 capability gives this vehicle extra traction and torque that comes in handy for off-road use.
How many miles does the Jeep Cherokee last?
Jeep Cherokee SUVs come engineered to last for many miles down the road. Each new Cherokee comes with specialized maintenance schedules that owners can follow. Many new Cherokees also come with generous warranty packages that offer coverages for powertrains the other vital systems.
In terms of long term durability, drivers who operate their vehicles sensibly and take maintenance measures such as regular oil changes and tire rotations can expect their Jeep Cherokees to serve them well.
Can the Jeep Cherokee tow a boat?
Towing heavy boats and other large objects require special vehicles and motors. The good news is, the new Cherokee offers just such power trains. Drivers have their choices of 6.4-liter, V8 engines that develop 475-horsepower as well as 470-foot-pounds of torque.
Operators who need to get at more power can choose the available Trackhawk motor. As its name suggests, this powerhouse delivers 645 pound-feet of torque backed up by 707 horsepower. This gives it a 7,500 pounds of towing capability. Many styles of boats, including sailboats, powerboats, and personal watercraft weigh in the 1 to 2-ton range, and as such the new Jeep Cherokee can easily handle such items.
Can the Jeep Cherokee be flat towed?
The Cherokee is a large and sturdy SUV. As such, it bears a decent amount of weight, but properly equipped and sized towing vehicles should have no issues with moving the Jeep Cherokee.
Research New Jeep Cherokee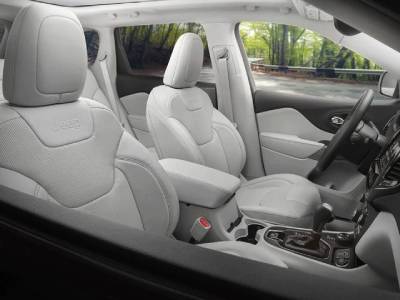 Does the Jeep Cherokee have Apple CarPlay?
Jeep's new Cherokee SUV has many technologies charged with keeping occupants connected. Among these tools are the Proprietary Uconnect system. Uconnect lets drivers and passengers connect their Apple devices with the Apple CarPlay system.
That's not all, because this vehicle also has native connectivity in the form of SiriusXM Guardian service. Guardian can do wonders such as remote vehicle starting, lock control, and even horn access.
How much does the Jeep Cherokee weigh?
Jeep Cherokees that carry full loads of passengers and luggage can weigh in the range of 4,500 pounds.
How many seats does the Jeep Cherokee have?
The fresh Cherokee seats up to five passengers comfortably. It offers a number of seat fabric options that run the gamut from Laguna leather through Natural Plus trim. Plus, front-seat passengers get to enjoy extras such as ventilated and heated seating.
Does the Jeep Cherokee have Adaptive Cruise Control?
Absolutely. Cherokee drivers get to enjoy service from the proprietary Protech safety package. This package includes safety provisions such as blind-spot protection, backup cameras, and cruise control with adaptive capabilities.
Does the Jeep Cherokee have Android Auto?
It comes fully equipped with the Uconnect system. Uconnect, in turn, offers access to other systems such as Android Auto. Plus, individuals who need good old Wi-Fi access can hook up to the 4G-LTE onboard hotspot.
Learn More and Test Drive A Jeep Cherokee Today
When you're ready, we invite you to make the short drive to K&M Wayland Chrysler Jeep Dodge Ram near Kentwood, MI. Once you arrive, one of our sales associates will work closely with you to ensure that your needs are met. Learn more about the Jeep Cherokee or if you know that the Jeep Cherokee is for you feel free to check out our inventory of Jeep Cherokees. We can help you finance your new vehicle and even set you up with a test drive. Feel free to contact us before stopping by today!
Contact Us